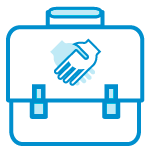 The use of E-marketing is a preferred business technique in many companies today. Companies that have followed this approach can confirm that there is a reduction in the operating costs, increased connection with clients, and improvement in annual revenues. The technique also has some disadvantages that have made other marketing strategies like direct marketing or text campaigns more appealing (Marij, 2013). This section will discuss the pros and cons of E-marketing in companies today.
Advantages
Companies have found efficiency in using e-marketing strategy. This is because e-marketing is fast, quick, and efficient. Fariborzi 2012 notes that, e-marketing campaign involves online promotions, which reduces the cost of advertisement and increases the company's profits. Marij 2013 argues that the cost of advertising online is less than even placing an advertisement in a billboard or newspaper. E-marketing is customer targeted, therefore, companies using this approach of customer service would be able to know their potential clients and serve them in a more effective way (Fariborzi 2012).
As the use of the internet has gained popularity, and companies have developed websites where they can post advertisements about them and their products (Fariborzi 2012). The use of Social media has enabled companies to engage in a face to face conversation with their customers. This has enabled them respond to customer requests effectively (Marij 2013). E-marketing is meaningful to companies because they are able to offer customized messages, promotions, and contents to different clients that are consistent with their preference. (Fariborzi 2012)
Disadvantages
However, despite the advantages associated with the introduction of E-marketing in companies, Fariborzi 2012 notes that E-marketing requires regular and active subscriptions, which are expensive in the long term.
The use of online websites for advertisement has made customers suspicious of virus transmissions, software that if it enters in ones computer is capable of configuring or destructing ones programs. This has reduced the number of clients accessing company advertisements online (Marij 2013).
Marij 2013 claims that posting of a company's customer services online opens doors for competitors to learn more about the company's services, which in return increases competition both locally and internationally.
Conclusion
Though the use of the internet has gained popularity, not every client uses the internet. Companies using E-marketing needs to understand well the nature their target customers before deciding on using this marketing strategy (Fariborzi 2012). Marij 2013 notes that the disadvantages associated with the new technology like increased competition, life time subscription costs, and internet should be well taken care off for companies to continue enjoying more benefits from E-marketing.