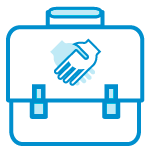 Interoperability is the linking of systems or products together with the other products and systems with no participation of a customer or user. For example, for an electric power system to effectively operate, its consisting components, such as electric utilities and generators, should work together. These components should depend and rely on each other for improved productivity. The adoption of interoperability by an organization enhances great benefits by ensuring that profits and revenues are increased. On the other hand, the operating cost of an enterprise declines due to better information sharing and transfer; in this process, quick feedback towards activities is achieved. When systems are operated with interoperability, the absolute system failure is avoided, and any arising issue can easily be managed. Businesses achieve more benefits through collaborations with other trading partners by the reduction in their expenditure and improving their market competitiveness. The use of interoperability enables effective incorporation process unlike situations where mergers and acquisition can resort to differences in related companies (Evans, 2002).
Interoperability is made possible by certain tools and approaches which ensure a free flow of data and information between institutions, systems, and people. Standardization is a tool used to create similar items that can be substituted for another in their use. These items are physically and functionally exchangeable, and one can be used instead of another. Interchangeability is the process of using one part of equipment for the other similar equipment without altering the functioning of the original machinery. This is so because the physical and functional characteristics of the equipment are set at similar standards and other relevant tools, which have a significant impact on interoperability. Moreover, the given standards and rules set in a given industry guide the development and structuring of systems. The models are used as a representation of systems to improve their understanding and use.
Combining computer machines with different operating systems gives rise to heterogeneous machines. There are two main methods that enable the compatibility of information and processes in an organization by the use of heterogeneous machines and systems. Syntactic interoperability is a method where systems are capable of exchanging and sharing data. Semantic interoperability, on the other hand, is the method where one or two operating systems interpret and share information. It involves the accurate exchange of information to give important and useful solutions and results.
Microsoft Software
Microsoft company is an international corporation based in America that specializes in the development and distribution of software and its related products. It was established in 1975 by Bill Gates and Paul Allen. The company takes part in the provision of licenses, manufacturing and sales of products to widely dispersed customers. Theit products include computer software, electronics and computers. Microsoft office suite, Internet Explorer web browser, and Xbox game console are hardware products that mark Microsoft as the largest seller for this hardware together with the Microsoft surface of a series of tablets. The high profits achieved by the company clearly show that it is the largest software developer, these earnings made results in high dividend payment to shareholders making it one of the worlds' most prized corporations leading to the subsequent rise in the share prices of the company making it highly rated.
We Offer
Original writing according to your instructions

Deadlines from 3 hours to 60 days

All disciplines covered

Confidentiality

24/7 Support
We Guarantee
Plagiarism-free papers

Timely delivery

Skilled writers with Master's/PhD degrees

Personal data security

Instant replies to all your questions
The company has dominated the software market through the sale of IBM PC-compatible operating system and the Microsoft office suite. The other varieties of software produced by the company are for desktops and servers, and in the Internet search for information by the use of Bing. The other area of specialization is the video game industry by the use of Xbox, Xbox 360, and Xbox One console applications (Desourdis, 2009). The company has also made further advancements in the mobile phone industry through the introduction of Windows Phone OS and the use of MSN in the digital markets. In addition, it has participated in the launching of Microsoft surface used in personal computers. The significance of Microsoft products and services to clients include easy and strong use and integrations of various programs. It is also important for the company management of records through the provision of proficient reporting and excel services.
Various changes in the computer industry over the past few years have had an influence on Microsoft operations therefore leading to the adjustment of its lethal activities. These situations have caused the company to have a wider view of the software sector hence focus on various areas. This had made Microsoft more of a follower than a leader, like in the past years. The company concentration has been reaching small to medium-sized enterprises which were of less importance before. The company acts as a follower in the industry by doing less innovation and getting into the market which already has developed and created ideas. The existing competitors have successfully established ideas and programs that are providing stiff competition to Microsoft. It has been forced to be a follower, although it is conservative and does not easily change its operations due to trend adjustments.
How it Works
01.
Select the type of assignment
02.
Provide explicit guidelines
03.
Enjoy your free time while our professionals work on your project
04.
Get an original work
Given Microsoft's dominant position, they could attempt to leverage that position to exclude alternative technologies, but they did not. This explains that despite its monopolistic nature, Microsoft does not use its position to despise because of the legal requirements. Microsoft is supposed to act under stipulated laws and rules, and avoid setting anti-competitive pricing of its products (Uyttewaal, 2003).
Microsoft has several benefits from creating architectures that can be interacted with by the other operating systems and services. This means creation of service-oriented architecture and integration of the functioning of practices, policies and frameworks of other applications. This enables large software to function completely and effectively. Cooperation and connectivity between computers is facilitated .This process is carried out without the influence of interruption by people, and the existing program is not adjusted. The company will have the benefit of mutual data exchange with the other software operators without additional services. Service-oriented architecture can be used after their first use. Therefore, the maintenance and development costs of a system are lowered. The efficiency of the operating system is improved when the service has been developed and put into use. The customer demands will also be met on time because of the increase in the value of services offered by the company.
Microsoft encourages developers to use their technologies in their development projects by making their software, products and services available to users. The company has availed products and services such as Office 2013, Windows 8, Office 365 and Internet Explorer 10. Microsoft also encourages developers through developing software which is compatible with their projects and are important technological products through leadership and awareness. Microsoft provides the basis of educating their users on using their technologies. The accessibility of technologies is also made easier by the company. This is through the use of features and tools, such as Visual Studio, to reduce inaccessibility to their products. The corporation engages in collaboration with organizations and the government. This ensures that standards are set to enable developers' access their applications for project development.
The Microsoft Company has therefore enabled the building of strong relationships with its users .They include organizations, government and web developers through the development of various software applications.