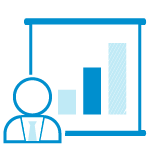 Internal and External Analysis Zifty
Nowadays, strategic planning is becoming increasingly important for companies that enter into fierce competition. It is difficult to diminish the role and significance of competition as a factor that determines the nature of marketing strategy and practices, management tactics and activities. Strategic management allows any company achieve competitive advantage, and this way survive for a long time, while achieving its goals. To compete effectively in today's business world, companies have to constantly collect and analyze vast amounts of information about the changes and trends in their industry, competition and other factors. However, small companies find it most difficult to cope with the tense competition in the red ocean. Zifty is one of the best examples of such companies. From one point of view, it is a leader in its field, but from another, it experiences strategic performance problems due to the strong competition. Thus, the paper analyzes Zifty's internal and external environments using relevant models and frameworks, and makes suggestions on how to move from its competitive red ocean to a free blue ocean.
Zifty is web-based and specializes on food delivery (Zifty, n.d.). It was established by Todd Miller with the main office located in Atlanta, Georgia. It is a small American company employing 107 workers as of January 2016 (Forbes, 2016). In the first quarter of 2016, the revenue of Zifty reached $8 million. In 2016, Zifty appeared in the Forbes' list of America's best small companies. According to Forbes, Zifty stands out among its competitors because of its long history, growth without outside investments and debts, as well as fastest delivery (Forbes, 2016). Moreover, Zifty is in the Inc. Magazine's Top 5000 America's Fastest Growing Company list being placed in the middle of the list with 40% growth (Inc., 2016). It is also named the Fastest Growing Private Company in Atlanta by the Atlanta Business Chronicle and the best place to work by the National Standard (What Now Atlanta, 2016). However, in spite of the achievements, the company has many competitors in their area of operations, such as Postmates, Caviar, Doordash and many others that are bigger, that have higher revenues, and that steal Zifty's customers (Owler, n.d.). Thus, the company is in the "red" ocean and is currently experiencing strategic performance problems relative to other firms in the industry.
First, it is important to make an internal analysis of the company. According to the Porter's value chain, the biggest value has the Postmates Company, then Doordash, and on the third place is Zifty. Since the total revenue measures the total value, Postmates with the highest revenue of $55 million is the leader in the industry (Roof, 2016). The revenue of Doordash is $40 million, what is also significantly higher than of Zifty's earnings (Juggernaut, 2016). This value is created by important primary and supporting strategic activities, such as operations, marketing and sales, services, and HR management and technology respectively (IFM n.d.). The operations of Zifty do not have any competitive advantage and same as competitors provide typical food delivery services. Unlike its competitors who operate in many different states, Zifty provides delivery services only in Georgia and Texas (Zifty, n.d.). Marketing and sales is Zifty's competitive advantage over Doordash and Caviar because it offers various raffles that both companies do not propose. Zifty also provides its customers with special coupon codes, gift certificates, and gift deliveries; it has its own Facebook page where it communicates with customers and keeps them close (Facebook n.d.). However, all competitors of Zifty have also established their social media presence. Additionally, the company has not established its competitive advantage in services. Zifty, as well as other competitors, delivers food, beverages and more from local restaurants and shops in Georgia and Texas, excluding alcohol drinks (Zifty, n.d.). It works year-round, except Thanksgiving Day and Christmas, while Caviar and Postmates operate without holidays (Zifty, n.d.). They all have websites and the real time trackers. Caviar's website does not pop up as the first choice in the search engine. Zifty performs delivery from 11am until midnight, although Doordash operates from 8am until 11pm, and Postmates and Caviar operate 24/7 (Zifty, n.d.). The biggest Zifty's advantage is its delivery time, which is the lowest among the competitors as well as the best customers service and preservation of the order. The price for services is the cheapest at Caviar; on the second place is Zifty (Reddit 2015).
The supporting strategic activities of Zifty are the competitive advantage of the company. In the course of HR management, Zifty the most thoroughly selects employees, trains and motivates them. The wages are high; each courier receives 100% of tips; each worker is trained to be polite, friendly, and responsive with every customer (Reddit 2015). Other companies do not offer excellent customer service and do not hurry to replace or refund damaged orders. However, Postmates, Doordash and Caviar employ a much bigger number of employees what allows them serve more customers (Owler, n.d.). Additionally, in Zifty technologies are also being continuously improved; each dollar earned is invested back in the business, making the company appear in the Forbes' list (Forbes, 2016).
We Offer
Original writing according to your instructions

Deadlines from 3 hours to 60 days

All disciplines covered

Confidentiality

24/7 Support
We Guarantee
Plagiarism-free papers

Timely delivery

Skilled writers with Master's/PhD degrees

Personal data security

Instant replies to all your questions
Secondly, in order to make an external analysis it is important to use such models as Porter's Five Forces Analysis, SWOT Analysis, and PESTEL framework. According Porter's Five Forces analysis, there is a low threat of appearance of substitute products in the industry, because the only substitute to food delivery service is customer buying and picking up the meal him/herself. There is also a low bargaining power of suppliers, because in this industry, the suppliers are local restaurants that customers choose themselves. However, there is a high threat of new entrants, because the market is open, there are no barriers to entry, and it does not require huge investments. Moreover, high bargaining power of customers and a high level of competition are typical for the industry.
SWOT Analysis showed that Zifty's strengths in the industry include established distribution and sales networks and reduced labor cost, while its weakness is small business units. The opportunities of the company are growing demand, appearance of new products and services, growing economy, new markets, while threats are external business risks, rising cost of delivery, and increasing costs on products in the restaurants and shops.
After performing PESTEL analysis, it can be concluded that on the Zifty's performance the biggest influence have economic, social and legal factors. Such economic changes as increase of taxes, higher prices on products and on fuel, etc. can both positively and negatively affect the company (Hill & Jones 2010). Similarly, social pressure to choose a healthier way of living and going to the shops instead of ordering the delivery, and changes in the legislation (e.g. the prohibition of alcohol supply in some states) can have an influence on Zifty.
Thus, in spite of all the Zifty's advantages, the industry and the market are crowded, and, therefore, the company is dragging behind in comparison to other food delivery companies.
Blue Ocean Strategy
In order to shift from the red ocean to the blue ocean strategy, it is necessary to modify Zifty's strategy and challenge current industry paradigm by coming up with a service that will create for Zifty a blue ocean and thus open up new and uncontested market opportunities. The company should stop competing with other companies and play by their rules. It should stop trying to compete by offering cheaper, faster and better services (Kim & Mauborgne 2015). To avoid stiff competition, Zifty should change the rules of the game and create new competition free market – blue ocean.
Free Features
References/
Bibliography List
First, in order to create a blue ocean, Zifty needs to create a new demand. It should change its target market by focusing not on the people who are already active participants, but on those who are not (Kim & Mauborgne 2015). The company should identify people who are not using its services and why. Currently, Zifty's customers are mainly middle class working people aged between 25 and 40 years, who easily use Internet and technologies and do not have enough time for shopping, or visiting restaurants. Therefore, in order to get another target market, it has to focus on elder people aged 55 years and above, who do not use gadgets and the Internet frequently. Besides, for elderly people it is more complicated to go miles for a specific product. For this reason, the Zifty's website and app should be easy in use, in order to be convenient for people who did not use the technologies frequently. Moreover, the company's advertisements should be placed on the platforms aimed at this generation (e.g. web sites on books or medicine). Additionally, the company should create specific discounts for elderly people.
Secondly, Zifty should revise the stereotypes of the market. The competition intensifies when companies focus on the same concepts and look at each other, instead of looking at the consumer (Kim & Mauborgne 2015). Thus, the Zifty's customers should be able to order meals that are different from what restaurants offer. The company has to create a function on its website and app, where clients can choose the weight of the meal by choosing the number of grams; can add the ingredients they like or deduct those that they do not like or cause allergies. For this reason, Zifty will have to collaborate with restaurants willing to modify their menus, since it will contribute to the increase in number of orders.
Thirdly, Zifty should look at related services. It should track the entire chain of services use. The company should answer the following questions: what products and services are used and ordered most frequently, what are the most common problems and how to solve them (Kim & Mauborgne 2015). Thus, in addition to the existing tracker, Zifty should create a related service that allows customers easily contact the couriers in order to exclude the possibility of the worker to mix the house or flat. Besides, each vehicle has to be equipped with a heater that can keep the food warm and a cooler or ice that can keep the food and beverages cold, fixing another problem of the delivery services.
Book The Best Top Expert at Top-papers.com
Your order will be assigned to the most experienced writer in the relevant discipline. The highly demanded expert, one of our top-10 writers with the highest rate among the customers
Hire a TOP Writer for

10.95 USD
Finally, Zifty should change the emotional component of the service encounter. Many products and services are sold because of the emotions they bring (Kim & Mauborgne 2015). Since delivery service is the industry free of emotional component, Zifty has to add it. Zifty should become a company that additionally delivers mood through the new services. Thus, Zifty has to start delivering board games for rent, CD's with films, PlayStation and games, equipment for sport games, and so on. By following these suggestions and shifting its strategy this way, Zifty can move from the red ocean to the blue.
Conclusion
In conclusion, the food delivery company Zifty is mentioned in Forbes' list of best America's small companies and in the list of top America's fastest growing companies, but since it is in the red ocean, it faces strategic performance problems relative to other firms in the industry. Zifty does not have the highest value among its competitors because it performs the same operations in only two states, has the same marketing strategy, provides the same services, has a bigger amount of holidays compared to competitors and less working hours, as well as employs the smallest number of employees. Moreover, there is a high threat of new entrants, a high bargaining power of customers and a high level of competition in the industry. Additionally, SWOT analysis showed that Zifty's weakness was small business units; PESTEL analysis showed that Zifty's performance could be strongly influenced by economic, social, and legal factors. In order to move to the blue ocean where there is no competition, Zifty has to create a new demand by focusing on elder people. Moreover, it should revise the stereotypes of the market by creating the function that would allow changing the meals, it should create an option to contact the couriers, and should change the emotional component of the service by delivering positive mood to people's homes.