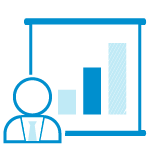 Performance appraisal is a comprehensive process that combines both oral and written elements. In the process of performance appraisal, employees' performance is evaluated, and feedback is provided. After the evaluation, a written report is provided outlining what was done right and what needs to be improved in terms of employees' performance. The documented performance offers a basis for promotions and pay increase (Braskamp & Ory 1994). Additionally, the performed appraisal provides an avenue for employees to improve their performance, and it also creates a platform where rewards are given for well done activities. Additionally, companies can use the evaluation report to streamline employees' activities depending on their strengths and weaknesses. However, performance appraisal must have outlined goals and aims. Moreover, it must be fair and without favoring or victimizing anyone (Zsidisin 2012). In some instances, some managers conduct performance appraisal with the aim of dismissing someone. In other instances, it is conducted with the aim of promoting a few individuals who may have been pleasant to managers. In such situations, the main purpose and impact of the procedure is undermined. Consequently, the results may not only affect the productivity of the organization but also the morale of the victimized workers.
Overview of Performance Appraisal
Performance appraisal uses either formal or informal approaches. For small businesses, the informal procedure serves best when managers may opt to meet with employees after six months so that to analyze the individuals work progress and performance (Katz & Snow 1980). The performance is compared with the results received from the previous analysis. The procedure is mainly verbal and standard appraisal forms are not used. With the increase in size of companies, the performance becomes more formal. Large organizations use written appraisal forms, and the results of the appraisal may lead to salary increment or promotion.
Performance appraisal is also employed depending on the work schedule. The procedure for assessing the performance of those who work from home or sharing would be different from the one of those who work on a part-time basis. Any work schedule has different activities for employees, and all these activities have to be included in the appraisal (Pidd 2012). The main point of concern in all work schedules is to ensure that all employees are given a fair appraisal and the resulting salary increment, tokens or promotion.
Furthermore, the appraisal must be in line with the company's desired performance and goals. The level to which a company achieves its goals depends on the workers' performance. In this respect, the procedure would also depend on the size of the business. For a one-person company, it would be simple to outline goals and act promptly in order to see the results. Effective performance appraisal requires a business owner to outline tasks for each employee. In most cases, performance appraisal is related to promotions and pays increments. Any appraisal is followed by a verbal or written feedback that gives a recommendation for improvement or maintenance. Moreover, the appraisal report should recommend a promotion, salary increment or a token. A performance appraisal would not be effective without being properly communicated and understood by the workers. Performance appraisal should not be there if a company does not effectively communicate the expected performance to each employee (Bogetoft 2012).
Importance of Evaluation in Institutions
Regular performance appraisal aligns the worker's efforts with the company's strategic objectives. The company's objectives give rise to set activities that would lead to attainment of these goals. Such activities are communicated to every employee, and proper atmosphere is created for these activities to be undertaken. Therefore, there are high chances of success to those companies that conduct fair and regular appraisals.
Performance appraisal clarifies performance expectations as well as enhances accountability. Performance appraisal communicates the job expectations to each worker. Therefore, each worker has a threshold that outlines what should be achieved within a certain period. In this respect, the appraisal provides a baseline for accountability. Every worker is judged depending on what is achieved in relation to what is specified in the task description. The achievement or failure paves way for either promotion or demotion (O'Keefe 2007).
A fair performance appraisal gives a reliable framework for compensation, salary increment and career planning decisions. The appraisal reports ensure that employees are promoted on merit and not on corrupt means. The company makes proper decisions aimed at developing the capacities of the underperforming workers. It also differentiates salaries given to different workers within the same level.
Finally, performance appraisal provides a baseline for documentation that is essential for legal purposes, reducing conflicts and supporting decisions. In most cases, promotions should have a reference point outlining the criteria used. The reference point is mainly in the documented appraisal reports. In other instances, workers would feel demotivated if promotions were not based on performance (Greenberg & Havilland 2008). Consequently, there would be constant conflict between employees who have been rewarded through promotions and those who have not. However, with a just appraisal system, there would be a peaceful coexistence of workers and those who are not promoted would be challenged to work better.
Evaluation Elements
The performance results per worker are judged in line with the results outlined in the performance standard. In most cases, the performance standard describes how well, how much, in what manner and when the activity was conducted.
The main element used to measure performance of workers is quality of output. The quality of output specifies how well an activity was conducted. The quality is judged based on correspondence with the set output standards. Additionally, the performance appraisal examines the quantity of output. In this respect, the standard specifies how much a worker achieved in regard to what is expected (Berk 2011). The standard can be in terms of how many activities were accomplished within a specified time. Furthermore, the appraisal judges the timeliness of output. In this regard, the standard answers the question when. In addition to quantity and quality of output, the time factor is essential in judging workers' performance. Success in productivity is measured in terms of timeliness in delivering the expected results.
Additionally, the performance appraisal should judge the effectiveness in which a worker uses company's resources. Workers may deliver much without being conscious of the company's resources. On the other hand, much can be produced at a low cost (Hodge 2000). A performance appraisal should also consider how workers' actions affect the company's internal or external aspects. These aspects should be in terms of profit, name or new ways of performing tasks.
A performance appraisal should also assess the manner of performance. There are some productive workers who take advantage of others so that to have their way out. Therefore, they build their reputation at the expense of colleagues. The method of performance is also essential when analyzing workers' performance. Any output delivered should be in line with the organization and country's outlined laws.
How it Works
01.
Select the type of assignment
02.
Provide explicit guidelines
03.
Enjoy your free time while our professionals work on your project
04.
Get an original work
Wrong Procedures in Performance Appraisal
A rating in one quality should not determine the rating in another different quality. A worker who performs poorly in one sector may perform better in another area. Similarly, a worker who performs excellently in one sector may perform poorly in another. However, many assessors gauge workers depending on how they performed in the previous analysis. Therefore, every rating at different times should be conducted irrespective of the previous results (Bernardin & Beatty 1984).
In other instances, some assessors provide a central tendency for several qualities. The middle scale rates different qualities equally. However, it does not recognize tasks that are conducted poorly and those that are conducted satisfactorily (Stewart & Stewart 1980). Additionally, some assessors are too strict to give a fair rating. Strictness is common when the assessor does not relate well with the workers. Other assessors become too lenient to give a fair rating. One assessor may be strict with one employee and lenient with another. Consequently, those with good performance records may receive a lower rating.
Other assessors depend on recency while rating the workers. They consider a recent good or bad behavior to judge the performance of the worker. A worker who may have recently performed poorly may receive a lower rating while the one who may have performed well may receive a higher rating (Grote 1996). There are other instances when assessors depend on the first impression of the workers. They fail to consider the fact that workers behave differently. The spillover effect also affects the appraisal system where assessors are influenced by past performance of workers. A bad or good past rating may influence the current rating regardless of whether the performance has changed (Grote 2002).
The status effect also influences the performance rating where employees with high-level jobs are given high rating while those who hold low jobs are underrated. Other assessors compare the employee's qualities with theirs. Persons with supposed similar qualities are given higher rating, and those with dissimilar qualities receive low qualities (Stewart & Stewart 1999).
Consequences of Poorly Performed Appraisal among the Workers
When the appraisal procedure is performed poorly, the workers are disconnected from the company's objectives. They develop a 'don't care' attitude since their efforts are not appreciated. They feel that some individuals who do not work hard will receive higher rating than those who work hard (Lansbury 2002). Their morale is highly affected, and productivity goes down. As a result, ill feelings develop between the favored and victimized individuals. The relationship between workers and the management may consequently go down. Lack of recognition and proper appraisal would facilitate individualism where company's resources are misused by the same workers (Jordan, Dexter, Tuch & CRM Productions 2009). At a personal level, the workers experience low self-esteem and reduced self-worth.
Consequences of Poorly Structured Appraisal to the Institution
When individual goals are disconnected from the business strategy, a lot of resources and time are wasted. The employees are lowly engaged, and their performance is substantially reduced. There is a lot of mistrust, higher attrition and low productivity among workers (Sashkin & American Management Association1988). The morale of workers is affected by under appreciation, and the overall company productivity decreases.
When the performance appraisal is not well documented, there is reduced visibility and accountability. As a result, the stakeholders who demand transparency may develop numerous suspicions. Lack of reliable performance information makes it hard to plan career development strategies among employees. Workers would continuously perform wrong duties. Therefore, the company's goals would be far from being attained (Grey Havens Films & Barr Films 2001).
In addition, managers would not have information on workers' progress, strengths and weaknesses. Problems related to workers would not be timely resolved. The continued poor performance would lead to company collapse in the long run (Chevalier 2007). Furthermore, lack of proper documentation of appraisal reports would create legal issues that may ruin the company's image.
The value and importance of performance appraisal should be understood by all managers. It should be conducted in a just manner free from favor or victimization. A properly conducted performance appraisal will not only result in motivated workers but also in increased company productivity (Performance Appraisal 1992). However, there are many factors that may corrupt the appraisal system. A poorly conducted appraisal demotivates workers, creates suspicion among colleagues, and thus the overall productivity is affected. The companies that lack proper appraisal mechanisms do not only have internal problems but they also face issues with stakeholders and the government