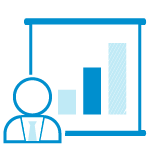 Scientific basis of motivation theories are conventionally divided into so-called "content" and "process" theories of motivation. Content theories of motivation are based on the identification of the internal motives (needs) that cause people to act in one way or another. The theory of needs was introduced by M. Tugan-Baranovsky, a famous Ukrainian scientist (1865-1919). He was the first to suggest clear classification requirements. He pointed out that there are five groups of needs: physiological, positive, altruistic, symptomatic needs and instincts, and natural needs. Particular attention is paid to individual's national identity, as well as moral and religious views. Unfortunately, nowadays it is not possible to spot this theory in its pure form.
The Maslow's theory of needs states that all human needs can be grouped into five hierarchical groups: physiological, safety, participation, respect, and self-expression needs (Maslow 1987). Physiological needs are the lowest (Allport 1968, p 105). According to this theory, managers firstly determine at what level of the hierarchy their employees are. Secondly, they investigate what can motivate them on this level. Thirdly, they offer something that is very important for their employees. This theory helps an organization determine the sequence of motivating factors for employees, taking into account not only the physical needs but also the needs of a higher level.
Since motivation factors are changing, it not possible to expect that the motivation that worked once will be effective all times. In ERG theory K. Alderfera assumes that human needs can be divided into three groups, arranged hierarchically: existence, communication, and growth. Difference between Maslow and K. Alderfera's theories is that the first one describes that this interdependence goes from bottom to up and vice versa, while K. Alderfera believes that the movement occurs in both directions: up, if people are not satisfied with the lowest level, and down, if people are not satisfied with the need of a higher level. At the same time, according to K. Alderfera, sometimes for one and the same person all levels can be relevant. Theory of acquired needs by D. McCleland is based on the fact that motivation and behavior of people are significantly affected by three basic needs, acquired under the influence of life events such as experience and training. These motivation factors are needs for personal achievement, needs for friendly relations in particular with those people who want to control resources and situations. Those people usually want to be managers.
Motivation-hygiene theory suggested by F. Herzberg focuses on two groups of factors that affect satisfaction from human work. The first group focuses on "health factors" – salary, workplace safety, status, rules, work schedule, quality control, and attitude to colleagues and subordinates. The second group is motivation from achievement, recognition, responsibility, advancement, job content, and growth opportunity. In some situations these factors can coincide.
"XY-Theory" was developed by Professor of Michigan University, Duklasom McGregor. It is based on two opposing models of human behavior. "Theory X" assumes that workers are lazy, dishonest, and lack initiative. Employees are always trying to avoid any work shift responsibility, seek benefits for themselves, and resist all changes. Therefore, the main stimulus can only be coercion and material rewards. A manager cannot trust his or her employees, so will need a rigid hierarchy and total control. The main style of management "theory X" can only be authoritarian, and the main tool must be punishment. "Theory Y" considers all employees ambitious, active, able to take initiative and responsibility, and seeking free creativity. They enjoy their work, so the main incentive is the possibility of self-expression and self-realization.
It is obvious that the two theories, which are based on the extreme models of human behavior, are very superficial and can not be successfully used in practice in their purest forms. There have been attempts to add missing elements to the "theory Y" and provide a modern twist. This twist is "Theory Z". Into this theory, American professor William Ouchi included his Japanese experience. He combined "X Theory" and "Y Theory" to get "Theory Z". The basis of this theory is the principle of community; it represents the company as a big family or work clan. Therefore, it is necessary to combine the best goals of the employee and company goals. This theory implies that employees prefer to work in a group and to have a stable long-term career growth related primarily to the achievement of a certain age. Concern for this well-being is on the company for which he or she works. He is individually responsible for the work, the results of which are evaluated according to clear criteria. The company provides workers with lifelong learning and continuous professional development opportunities. William Ouchi suggested several basic principles of management based on the "Theory Z": bottom-up hierarchy, the main driving force is the middle management, and senior management has to facilitate decision-making and well-being of staff. This theory argues that the basis for success in staff work is its belief in common goals. Major incentives are trusting relationships and mutual support, as well as full coherence.
How it Works
01.
Select the type of assignment
02.
Provide explicit guidelines
03.
Enjoy your free time while our professionals work on your project
04.
Get an original work
Procedural theories of motivation analyze human response to motivating factors. These factors cause people to achieve various goals. Hypothesis of expectations (Lewin, V. Vruma) is based on the fact that for successful motivation process there is a requirement to achieve a certain goal. People must be sure that their chosen type of behavior will actually lead to positive actions or desired things. A key role is played by implementation of three factors: efforts to provide the expected products, results to be achieved for an expected reward and feeling of expectations.
According to goal setting (E. Locke, T. Ryan), human behavior is determined by goals that it has set itself. The level of performance of the work depends on the characteristics of these four goals: complexity (degree of professionalism and the level of performance required to achieve it); specificity (quantitative clarity of purpose, its accuracy and certainty); acceptance (the degree to which a person perceives to be its purpose); and commitment (willingness to demonstrate a certain level of effort to achieve the goal).
The theory of equity founded by S. Adams comes from the fact that in the process of evaluation people usually compare their actions with the same actions of others (Bluth, Simmons & Carton-Ford 1983). And if this person finds that he is under-evaluated, he has a sense of dissatisfaction, and this feeling can reduce motivation level, lowers confidence in himself, and makes employees leave the organization, etc. All consequences of under-evaluation are negative.
According to the theory of participatory governance, if a person interested is involved in corporate activities, he gets satisfaction from working, with greater impact. Further, the theory of moral incentives is directed to the needs of higher level such as recognition and participation, and based on the use of moral incentives. They include awarding diplomas, medals, awards, honorary degrees, as well as the imposition of thanks and praise.
Finally, the theory of financial incentives consists of the process of formation and use of incentives and wages. The system of material incentives consists of diverse inducements that create a material interest in the implementation of work.
Motivation Theories in Current Organizations
Nowadays, it is not possible to find any theory in its original or pure form. In most companies, HR department use KPIs for assessment and identification of the strongest and weakest forms. In these KPIs they include all aspects that are interesting for the company, although they do not know how to motivate employers if results are very good. In order to choose how to motivate people, it is necessary to apply Maslow's theory. It is logical to find out levels of needs for all employees. It is possible to do with the help of questionnaires in which it possible to ask about employees' hobbies and interests. Certainly, if employees answer that they would prefer spending a weekend with their family to going to a training course, their company has to understand that its employees need more social packages for their families. For example, it is recommended to ask which hobby the person has got. If an employee answers that it is fishing, it means they are more family oriented and not very competitive; they usually miss some quiet activities and are willing to monitor and think more. Good motivation and comfortable working conditions can be an opportunity for professional development and stable work. If employees answer basketball, it means they are willing to work in teams, they are very competitive, and some failures make them only more competitive. Motivation factors can be projects with team competition. If people like billiards more, they like more individual tasks and compensation after each good results. If they like horse-riding, they are usually able to make a decision.
After such identification it is necessary to offer possible motivation schemes. Looking at the foregoing theories, I would like to suggest that a combination of some of them be used. More than that, I would like to point out that this mix consists of evaluation and motivation theories. The most well-known theory is the 360- evaluation model. Needs can be identified with the help of questions about all surrounding aspects. Any person is surrounded by following aspects such as family, friends, classmates, colleagues, bosses, entertainment activities (theater, cinema, nightclubs), hobbies (readings, fishing), professional experience, public recognition, and professional rewards (Koch 1959).
We Offer
Original writing according to your instructions

Deadlines from 3 hours to 60 days

All disciplines covered

Confidentiality

24/7 Support
We Guarantee
Plagiarism-free papers

Timely delivery

Skilled writers with Master's/PhD degrees

Personal data security

Instant replies to all your questions
If employees in their diagnostic test value friendship, it is necessary to create positive atmosphere at work, so that they could work in teams. It is necessary to allocate tasks in small friendly groups. The Motivation factor can be decided on appropriately, for example parties sponsored by the company. It is possible to play a game: "Who is my best friend?" Such people are likely to find friends at work. If employees take classmates seriously, they are oriented at long-term relationships. Those people who answer to the question "what motivates you" – "my children" are family-oriented, hence they will require some satisfaction for their families such as a holiday resort, health pack and other benefits (Rose et al. 1988).
Questions about a boss can show what relationships in a hierarchy are more appropriate. It is possible to ask what was the most impressive for you about your boss. If the answer is the level of his or her development, then employees accept their bosses as an example and it is necessary to appoint a very professional boss. If the answer is that the boss always congratulated my family, then it is very important for these employees to bring some congratulations from his boss home to his close people. If the answer that the boss tried to listen to all employees, it is necessary to implement collective decision making for some spheres.
Colleagues were already mentioned above as friends. Typical question that can be asked is "What did you like most of all about your colleagues?" If the answer is "Nothing", then it is more important to create professional atmosphere and no chit-chat (Skinner 1974).
Entertainment questions define what types of leisure activities are better for employees. Theater is a sign of intellectual and cultural personality. Cinema is liked by people of effects and technological development. Their motivation can be new gadgets and technologies.
Hobbies are very important in motivation factors identification. It is possible to list all different sports and hobbies. All candidates have to choose their favorite interests. All lovers of collective types of sport must work in teams. Individual sports are characteristic of leading managers. In order to show my idea of motivation system, I would like to demonstrate it in the table below.
In conclusion, it is necessary to say that the same table can be compiled with hobbies and material and non-material aspects. All these aspects pre-determine the motivational factors. They are the main measurable criteria. This matrix can be used in all organizations.