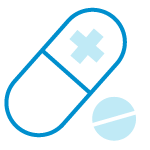 Causes of Drug Abuse Among Youth
Drug is any substance taken to relieve or bring change in the normal body function of the human beings. There are two types of drugs; soft and hard drugs. Drugs are mostly abused by the youths who are mostly after getting some certain effects in their bodies such as happiness. On the other hand, a drug addict is someone whose life becomes dependent on drugs thereby referred to as a drug abuser. There are several causes of drug abuse mostly among the youths who make the largest population of the drug abusers.
According to Levy (2003), there are two major causes of drug abuse among the youth. These are peer pressure and depression.
Youths get engaged in many activities like the sporting and other school activities. In these interactions, they may influence each other into some behaviors and introduce their partners into drug abuse. This is mostly seen in boys' schools where they make friends and through influencing one another, they get to use the drugs until it becomes an addiction to them.
Some youths also engage in drugs to fight depression. This is usually taken to relieve some bad thoughts after something bad happens to someone. After a long use of the drug, it becomes a habit and the person end up being a drug abuser. Another major cause of drug abuse among the young generation is the widespread unemployment (Bagenstos, 2009). Some youths engage in the selling of drugs in order to earn a living due to the unemployment problem.