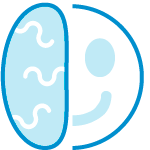 I have had problematic relationships with my former friend Alice. I think that we have played in the game "be my best friend, but worse than me". In this game, I have been the best friend; however, I have been worse than Alice in everything (in every step and every idea).
She has always intended to show that she is a smarter, interesting, communicative, up-to-date person than me. It has been reflected in our dialogues and in dialogues with other peers. When we met somebody on a party or in the cinema, Alice always started a conversation and described to others any events where I was depicted as fool and clumsy when she was smart, cute, and dexterous. I felt uncomfortable. When she saw that I was confused, she told others that I was her "best friend". After these words, I felt gladness and joy. When we go to department stores for buying clothes, she never appreciates my decision. As per Alice's opinion, apparel which I choose is out-of-date and unsuitable. Similar situations happen when we go to the cinema or theaters. My interests are uncommon, unusual, and fusty.
However, I like Alice very much. I help her with her studies. I often visit her at her home. I know all her relatives and other friends. I know everything about her thoughts and troubles. Alice has named me "the best friend" and I am very proud of it. I know that she has not got any other best friends which are as close to her as me. All other friends and peers who are more fashionable and interesting to her do not make friends with Alice for a long time because of her feisty character. Thus, I am the only one who has been "the best friend" and "the only one best friend" for years, notwithstanding the feeling of inconvenience when she makes me a fool.
This game has several grounded rules. I help and listen to Alice's ideas and thoughts and always admire them. However, when I describe my ideas and perceptions, most often they are wrong, senseless, out-of-date, and even a little bit strange. I agree with Alice's opinion and remain her "the best friend", but always "worse then she".
I pay less attention and spend less time to my other friends because communication with Alice takes all my time and patience. Several years ago, Alice went to Europe with her parents for several months. I started to communicate more with other peers. I understand that I have numerous friends, for whom I am not just a person with curiosities. I realize that I have a quite normal and even modern taste in clothes and cinema. Others make friends with me without saying that I am strange or unusual. I feel a normal and interesting person like others. After Alice's return, I do not want to continue communication with her because I feel more comfortable and calm without her.
Now, I understand that we have not been best friends. We have not been even friends at all. In the majority of situations, I have supported Alice's egoism and self-esteem. I have never discussed my problems with her because I have feared to be ridiculed. I have been sure that Alice will not support me in complicated situations. The only reason why I make friends with Alice is that I have wanted to be needful and to be "the only the best" for someone even by being ridiculed in some situations. Maybe, it reflects my low self-concern and self-esteem. I am not aggrieved on Alice now, but I do not want to communicate with her any more. I think our relationships cannot be improved because I have become the other person, I have found real friends with whom I am happy and who can support me in any life difficulties. Maybe, later I can be a friend to Alice if she treats me in other way.
Language, Thought, and Action
I agree with the Sapir-Worf's hypothesis that people's attitudes towards others and towards events that take place in their lives are reflected through the words they use. It is notable that different nationalities have different words for the same event, which reflect different visions. This is based on cultural, social, and historic diversity of settlers of different areas.
Besides, it should be mentioned that with time words change their meaning. Often, an inoffensive word in the 19th century becomes offensive in the 20th century and vice versa. This evolution of meaning reflects evolution and transformation of people's perceptions and visions.
Nowadays, people who intend to reflect their visions and thoughts in a more ethical and less discriminative manner try to change their language. They do not use words as "nigger" or "black" because they are considered to be offensive to Afro-Americans. Moreover, a considerable ethical campaign has taken place against use of word "retarded" (Palumbo & Shriver, 2013). People place themselves in opposition towards the meaning of this word that is offensive to others. I think that elimination of this word will change existing attitudes towards the other, but not fully deracinate these attitudes. Usually, words are a product of some particular behavior, its reflection, but not background. The basis of personal attitudes is formed by social and ethical standards, upbringing, and personal experience. Changes in social behavior can be obtained by combination of strategies directed at changing of education, language, ethical considerations, character building, etc. Concentration and replacement of only word construction by others (like replacement of word "addiction" by "substance use disorder") without other above mentioned improvements cannot lead to total avoidance of negative connections. I think that "addiction" will lose its negative connections, but they will arise towards phrase "substance use disorder".
However, some of the changes are extremely important and justified. These changes are directed at elimination of unethical treatment of different people based on their race, religion, vision, health disorders, etc. The society should respect visions and perceptions of other people. Moreover, it should not cause stress or ridicule disabilities or extinguish characteristics of others. Our society is based on equality (i.e. equal treatment) and security of personal rights and liberties. Of course, any person can freely express his or her fillings and thoughts until he or she will harm interests and self-esteem of others, i.e. until he or she will infringe on personal rights of other social representatives and offend them.
At the current time, "political correctness" is reflected in avoidance of offensive words and word constructions. I think that the main goal of "political correctness' is avoidance of offense of different representatives of our society, i.e. making false statements about the person (Mosley, 2010). Politicians being "politically correct" try to avoid such words as "right" and "wrong" for elimination of any extremities and negative understandings and providing their personal exigent opinions on some events. Instead, they prefer to use less sharp word "inappropriate" (Congdon, 2002). "Political correctness" is not used for limitation of personal freedom of speech. It is used for elimination of offensive and aggressive judgements.
Originally, "newspeak" was described by George Orwell as a language developed and implemented for limitation personal freedom of speech. Special limits on self-expression have the aim to create a society, which has only some particular visions (these visions cannot endanger existing political and social order). Newspeak has nothing in common with elimination of offense in the society.
The articles "Zendaya blasts 'Fashion Police' host Giuliana Rancic's 'ignorant' red carpet diss" and "Zendaya responds to Giuliana Rancic's latest apology over dreadlocks diss" provide description of reaction of different representatives of means of mass media on appearance of Zendaya on the Oscar red carpet. Zendaya is a young star of Disney Channel. In the popular show "Fashion Police", she was sharply criticized for her smell, dress, and unusual hair style. Zendya appeared in "a sleek Vivienne Westwood gown" and with dreadlocks on her head. (Philip, 2015). Besides, Rancic in her show stated the following: "I feel that she smells like patchouli oil . . . or weed" (Philip, 2015). She was driven by the stereotypes that only African Americans can heave a dreadlock. Representatives of this race, as per opinion of "Fashion Police", have bad taste in wearing and symbolize smokers and Rastamanous. This vision is offensive and unethical in respect to African Americans. Rancic uses simple word constructions in order to point out her negative attitude towards Zandia and representatives of African Americans.
It should be noted that the phrase "I feel that she smells like patchouli oil . . . or weed" was supported by backstage laugh. This increases the effect of disdain and disregard to representatives of African Americans. A more standard hair style and dress would call better perceptions and less critics from the side of "Fashion Police" because they will be more common and less self-reflected. However, as it has been mentioned above, any person has a right for self-reflection in our society. No one can offend others, their hair styles, dresses and race, especially on the television broadcast, like it was made by Rancic in the show "Fashion Police". Means of mass media not only reflect opinion and vision of the society. Nowadays, they form these opinions and visions by inflicting certain perceptions and reflecting condemnation of some particular event, characteristic, and personality. By the above mentioned expressions, Rancic reflects not only oppression and impatience of some part of the American society towards African Americans, but she also connects this idea to people who respect African Americans and treat them as equal representatives of the society. "Fashion Police" broadcasted all over the country has showed oppression as a normal social behavior.
How it Works
01.
Select the type of assignment
02.
Provide explicit guidelines
03.
Enjoy your free time while our professionals work on your project
04.
Get an original work
The young star decided to answer to the following unethical expressions by a statement that her dreadlocks symbolize strength and beauty instead of drugs. She stressed that in the current times numerous popular people wear dreadlocks. Among them, there are Ava DuVernay, Vincent Brown, Terry McMillan, and Ledisi. Zandia also stated that the criticism of her look and, especially, her hair was a criticism of African American citizens. Later, Rancic officially apologized before Zenday for sharp criticism in "Fashion Police" and said that "this incident has taught me to be a lot more aware of cliches and stereotypes" (Philip, 2015). These apologies were accepted by Zendaya.
Apologizes of Rancic provide a belief that this person understood her mistake and that her ideas expressed in "Fashion Police" were highly unethical and oppressed. The society can suppose that African Americans would not be oppressed in this show and by this person any more. Some of them even excuse Rancic. However, her words cannot be returned. The idea of permissiveness of public unethical behavior and oppression towards African Americans in the means of mass media was already settled in people's minds. Thus, unfortunately, some of representatives of the society, either advisedly or not, can be able to afford themselves some unethical behavior towards representatives of other race, bearing in mind that they cannot bear any responsibility for it (except for a necessity just to say "Sorry").
Tensions of Relational Life
The first tension reflected in an inherent necessity of connection with my parents (because they are my family, my closest people, my nearest and dearest) and at the same time I intend to have some autonomy in my personal life. This tension is reflected in my communication with peers and friends. On the one hand, I often describe my friends and their lives to parents, tell them some interesting stories. I want my parents to share my emotions and attitude to my friends. On the other hand, I do not tell them completely everything about my friends and my behavior towards them as I want to act independently. Hence, dialectical tension is solved by providing my parents with only a part of information about relations with my friends and peers.
The second dialectical tension is reflected in aspiration to stability and at the same time necessity of changes. Stability is reflected in predictability of persona behavior and interpersonal relationships. Changes reflect personal intends to find something new and to avoid routine. This dialectical tension also finds its reflection in my interaction with my parents. On the one hand, we have stable relations of subordination. I try to make everything they want in the way they want. However, with a course of time I become older. I gain my own life experience and obtain certain skills and knowledge. At the present time, I want to do things told by my parents by my personal way. At the moment, I still try to make everything that my parents want me to do in a way they insist. However, I try to discuss some of my actions with them for providing my vision on the way of maintenance of certain work.
The last dialectical tension is reflected in privacy and expression. Privacy reflects a desire of closeness, while expression is reflected in a necessity of openness. This dialectical tension is reflected in my relations with the opposite sex and familiarity of my parents about these relations. On the one hand, I want to share my feelings and my climate with my parents. I want to tell them how a shiny, kind, clever, and tender personality has become a part of my life. On the other hand, I do not want to disclose all particularities of my relationships with other people because my parents could not appreciate these relationships. At the moment, I provide my parents with a part of information only about long-lasting relationships with the opposite sex. A part of it has remained closed to them.
Numerous friends and peers have difficult relations with their parents because they could not resolve dialectical tensions mentioned above. Some of them do not tell their parents anything about their personal life. Parents become suspicious. Other peers tell too much about their personal life, communication with friends, and relations with the opposite sex. As a result, parents provide too much advice and instructions. Both situations lead to conflicts based on misunderstanding between younger and older generations. Besides, some peers and some of my friends do not listen to and do not perform requests of their parents. This causes misunderstanding, arguments, scandals, and other related high-stressed situations inside their families.
Group Analysis
The group descried in the case has numerous problems with self-esteem of its members, ability of an authority, recognition, and sharing of ideas between group members. Below, I will provide description of each group member for obtaining the vision of what is happening in a group and what are problems inside the group.
Michael freely expresses his opinion to other members of group. However, no one listens to and supports him. Michael faces a lack of recognition inside a group. This issue is formed due to several circumstances. This person provides forceful statements of his opinion. He does not listen to other and take their visions and thoughts into account. He and other members of the group do not present a particular plan (or several plans of actions), they just discuss numerous ideas. Allen and Mary position themselves as group leaders. They formulate and propose different ideas. Unlike Michael, they are supported by other group members. Besides, they exercise strict control over wasted time. However, there is one considerable difference between leadership of Allen and leadership of Mary. Mary listens to and pays attention to visions and ideas of others. This is reflected in their relationships between others. Dan just rephrases Allan's ideas, whereby Joyce reflects her own visions (in support to Mary's ideas). Allen does not listen to attention of others, even Dan. His statements sometimes are non-argumentative. This person just intends to bolster self-esteem, but not to provide a valuable and reliable idea.
We Offer
Original writing according to your instructions

Deadlines from 3 hours to 60 days

All disciplines covered

Confidentiality

24/7 Support
We Guarantee
Plagiarism-free papers

Timely delivery

Skilled writers with Master's/PhD degrees

Personal data security

Instant replies to all your questions
Allen is supported by Dan, while Mary is supported by Joyce. Dan and Joyce have never played leading positions in the group. It seems that they even do not want to do so. They just rephrase or encourage the two leaders mentioned above. Notwithstanding the fact that these two personalities do not reflect their personal ideas and visions, they play a considerable role in the group. Joyce together with Mary takes an active part in arguments with Allen and Dan. Moreover, Joyce is the only person in this group who intends to bring a peaceful solution into it. This girl supports not only Mary, but also Chris. Chris is a very diffident and uncertain person. No one (except Joyce) listens to her because no one believes in her. It seems that even she by herself does not trust and believe in her own ideas.
Hence, the group has several main problems: lack of one leader who is able to develop and propose one particular plan of actions; lack of communication, interaction and support between group members; as well as absence of cohesion and solidarity.
Several steps can be taken in order to improve the situation. First of all, she can support one of the existing leaders. It will be better to support Mary because she listens to opinions of other members of the group and provide reliable ideas, unlike Allan. Then, my friend may discuss the existing situation with Allan and Michael. She can assure them that support of Mary as a leader will provide considerable benefits to the group like development of an open joint plan of action. Moreover, the friend can assure Allan and Michael that the group will carefully listen to and take into account all their ideas. Besides, it should be noted that if Allan wins support Mary as a leader, her leadership will be also supported by Dan because he always follows Allen's visions
My friend can have a conversation with Chris for increasing her assuredness, self-sufficiency, and involvement into the working process. This person does not truly cares about the result of the working process because she pays less attention to making the work done in a due time.
Managing Public Speaking Apprehension
Public speaking apprehension seems to numerous people as a considerable life issue. I have also had the same idea for a long time. However, my first public speaking experience changed my vision. I was frightened to present my work to people. I had shallow breathing, fast heartbeat, and headache. I was very nervous. My hands were joggled. I could not concentrate on any subjects. My thoughts became muddled. I confounded words of my presentation, notwithstanding the fact that I had been learning it by heart for several days. My feelings were really awful.
When I started my public speech, I looked through the audience and obtained a clear understanding that people who were sitting behind me were similar to me. Most of them I knew personally. They did not want to harm me or oppress me. Some of them were not even interested in my public speaking apprehension (they played games on mobile phones or whispered to one another). I realized that there was nothing tragic about my apprehension. This apprehension made me calm. I started not just to read word for word from the sheet of paper. I spoke to the audience. Of course, my first experience was not totally successful. I became fluent in my ideas and forgot to present a part of my work. However, this experience was very useful for me because I learned how to manage my public speaking apprehension.
I can give several pieces of advice to other students for helping them to manage their public speaking apprehension. The first one is a clear understanding that the audience consists of the same simple people as you. The majority of these people do not want to judge, offend, or criticize you and your work. Some of them even are not interested in the subject that you present. Thus, there is no any reason to be nervous. The second advice is to avoid reading of a word for word. Instead of reading, one should speak. This provides better presentation and introduction of the work.
Preston in his work "5 Tips for Reducing Public Speaking Nervousness" provided different methodologies that enable management of public speaking apprehension. The first methodology is reflected in a clear understanding that no one is perfect so that anyone can make mistakes. Fear of public speaking is closely connected with fear of making mistakes (Ni, 2013). A person should clearly understand that anyone can make a mistake and there will be nothing awful in it. The speaker should just recover himself or herself and proceed with his or her speech. Any mistakes can be recovered gracefully so that no one from the audience will recognize them.
The second methodology is obtaining a clear understanding that public speech is not assessment of personal working activity. This speech is only a reflection of a little part of all knowledge and skills obtained in the speaker's life. Being bad in public speaking does not mean that one is a bad person or a professional.
One more methodology consists in self-confidence. This decreases nervousness and helps avoid any interruptions, additional stress, anxiety, and mistakes in public speech. Person can transform his or her superfluous emotions into enthusiasm.
The last methodology is based on the understanding that there is no necessity to memorize any word. The speaker should clearly understand the topic of his or her speech. Intentions to memorize every word from the speech in some particular order can lead to such negative consequences as increasing of nervousness. Besides, the person can rehearse his or her speech with friends and relatives. This increases firmness and assurance.