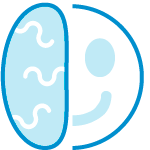 Psychological disorders are also referred to as mental disorders. They are behavioral or psychological pattern symptoms that affect several areas of one's life. Such symptoms may cause distress to persons experiencing them. The following is a list of psychological disorders that affect us in our daily lives. They include developmental disorders, dissociative disorders, cognitive disorders, associative disorders, anxiety disorders, adjustment disorders, factitious disorders, and mood disorders
In this case, I will look at cognitive orders as a major classification of psychological disorders. Cognitive disorder can be defined as psychological problems which affect memory, learning, and problem solving. Cognitive disorders have been recognized as an unavoidable problem of aging. With old age, these memory disorders are very common. However, a sharp lapse in the short-term memory can be more than the usual forgetfulness. This can be a symptom of cognitive impairment. In most cases, people with this problem tend to retain reasoning skills and critical thinking but frequently experience a short-term memory lapse. In such conditions, the affected individual may have troubles in remembering people's names or flows of conversations. Increased tendency of misplacing things and over-reliance on calendars, lists or notes are the primary symptoms of the disorder.
Cognitive disorders can be treated in three major ways, namely: compensatory strategies, use of remedy techniques, and adaptive approaches. Many experts agree that cognitive rehabilitation programs apply techniques from each approach. A professional in mental problems such as a psychologist, neuropsychologist or an occupational therapist can make the determination on the best ways to treat cognitive disorders (Bodin, 2006). Psychologist would create a treatment program that delineates the methods to be applied to attain certain goals during the rehabilitation processes. The approaches used depend on the individual's relative strengths or weaknesses.