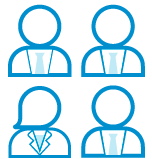 Different cultural groups have their own way of life that differs from other groups. This entails the practices, feeding habits and mode of living. In my study, I was able to identify basic things carried out by Dementia community after interacting with one of the common group in the community. Several issues came out concerning their living conditions and most specifically their health status. I was able to grasp some issues discussed in one of their meetings which I later asked some questions on, form some individuals. Most of the issues discussed regarded health matters and hygiene challenges facing the community. The community can be regarded as sub-literate since some of the members in the group could read and write. Other had to be assisted in reading and writing tasks.
On my arrival at the meeting, it all looked strange since the people in that meeting did not expect a stranger and hence everyone gazed at me. There were no feelings of fear since some of the members were very welcoming. The group was composed of both men and women and some youth members of the community. There were more females than males in the meeting but later came to understand that women are more in numbers compared to men. There were group officials who were mainly men with few females. There appeared to be hot issues being discussed where hot motions were led by the officials who sat in front of other group members.
The issues discussed in the group regarded health matters particularly the hygiene of the people. There were contributions by the members proposing what was to be done to raise hygiene levels in the community. From the few contributions made by the members, I was able to grasp some few issues regarding the hygiene levels being discussed in the meeting. One thing that came out clearly is that hygiene levels in the community were very low. Some members also complained of malnutrition diseases attacking their children. The group appeared to assist some members because some could be heard commenting and proposing for some actions taken some time before. Issues of malnutrition diseases were mainly discussed and this was connected to the poor eating habits by the members.
From the issues discussed in the group, it was evident that this group has been of assistance to the members. This is because some members commented of improvements since they joined the group. The members could also contribute some money in the purchase of recommended items for improvement of hygiene and health status of young children. The program can be recommended for other communities with related issues like those in Dementia community. Such meetings are vital in the general solving of problems affecting the whole community. This is also because an individual may not be able to some major issues alone. Issues of health and hygiene are collective issues that require the attention of everyone in a community.
Interpersonal skills enable one to interact freely with others through communication (Hargie, 2003). The major component of interpersonal skills observed among the members in this group were their ability to listen and speak effectively. Order was well maintained where people could make contributions only when given a chance to speak. They also listened to each other as one made his or her contributions. Assertive skills were also observed among the members. In this case, the, one could make his or her contribution while expressing his or her feelings without violating others' rights. This showed oneness and harmony among the members in that community.