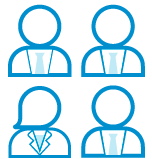 People develop through various stages after birth, and these include physical changes characterized by body size and figure, as well as internal changes in brain and reasoning capacity. An individual is also expected to advance in social aspects such as education, family, and wealth.
The Life Story
I am Florence J. Tankersley born of Glen Swanson and Jenny Swanson on 1990/3/19 in the Oklahoma City at 01:32 hours. I was the second of three children in a family of American nationality and native American ethnicity. The birth was through natural delivery, without a single complication. I started schooling at the age of five, and at 21, I graduated with a Bachelor's Degree in Nursing from the University of Oklahoma, after which I immediately enrolled for a Master's Degree in the same school, which I completed at the age of 23. I secured a job as a nurse at the age of 24, after which I purchased a house, and at the age of 25, I got married to Jacob Branson, a banker who is the father of my six months old child.
My Social Clock
Social clock is a culturally determined timetable that describes what is expected of an individual in the society as he/she grows old (Jeanty, n.d.). The timelines set by the society try to define what a human being should accomplish at a given age, and these include education, work, family and wealth, among others. If a person does not meet these expectations, he/she is deemed to have failed the test, and thus, he/she cannot be treated with much respect. In my case, I believe that I have achieved what my society expects of me because I managed to acquire a Master's Degree before the age of 25, and I have a husband and a child.
My Possible Selves
As per my experience of perceptions, thoughts and emotions, I consider myself as a searcher due to my high personal and social expectations and strong bonds with adults. I also have a strong urge for personal growth, personal skills and responsiveness to communities that favor self-growth, and this depicts attributes of a resolver.
Primary and Secondary Control
Primary control refers to the behavior aimed at influencing the external environment/objective conditions with an intention of changing the world to satisfy oneself. On the other hand, secondary control refers to influencing of internal processes/thinking to expand, maintain and minimize the loss of primary control through adoption of flexibility in behavior thus adjusting oneself to conform to the objectives (Evered & Morling, 2006). When I started my university studies, I felt that the studies were too hard for me, and I started exploring the ways of acquiring the degree certificate through dubious means such as forgery and cheating in exams. These ideas exhibited primary control as I tried to interfere with the conditions set by the course objectives by studying hard. However, after encouragement from friends as well as counseling sessions, I decided to adopt the secondary control whereby instead of using the dubious means, I chose to adjust my behavior by adopting a positive attitude and hard work, and this led to my success.
Reflection of the Themes of Adult Relationship
The themes of relationships are respect, love, image and expectations, among others (Guzman et.al, 2009). Since I started dating my fiance, our relationship has been characterized by respect whereby we are faithful and tend to value each other. Love is the foundation for our family, and this is the inner background as opposed to physical intimacy only. When we started dating, some people predicted that our love could not last, and thus, the image was not good in their eyes, but due to the mutual trust, we stick together and proceed up to marriage.
How it Works
01.
Select the type of assignment
02.
Provide explicit guidelines
03.
Enjoy your free time while our professionals work on your project
04.
Get an original work
Conclusion
Success in one's life is determined by the individual's achievement of goals set by oneself or by the society, and these include education status, wealth, and family, among others. Every hopeful person aims at achieving these objectives while the community watches over him/her, and the success or failure determines the significance of this person in the society.