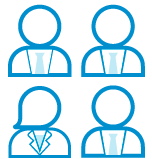 Today, no one can deny that Genevan philosopher and writer Jean-Jacques Rousseau is the most significant personality in the political philosophy, who inspired many prominent thinkers and affected the development of educational and sociological thoughts. Rousseau is deservedly described as a leading figure during the French Revolution, and he was also well-known for his masterpieces. The Genevan thinker is unique in many aspects, and, therefore, thorough research has been conducted to clarify his contradictory thoughts. This essay seeks to analyze the philosopher's vision of the human nature, people and society of those days, and also examine whether contemporary social life makes people hostile.
In order to comprehend Rousseau's standpoint on the contemporary world, it is important to emphasize his vision on the human nature. Like many other eminent thinkers such as Hobbes, Berkeley, Locke, and Hume, who analyzed individuals' nature, Rousseau also explored the state of human character, hypothetical situations where there was no state and authority, and people could live freely. Natural beings lack socialization. In comparison with the civilized men, savage people are not communicative, and, therefore, they are slaves. A slave has no shoes or clothes that people consider to be essential in the modern world. What savage men care about is satisfying their basic needs including sleeping and eating. Human abilities are developed in terms of self-preservation and defense (Rousseau, Ritter, & Bondanella, 1988). The ability to speak and mental capacity are not well developed, as a man does not live in the society. A man can develop these faculties only if he/she lives a social life. Self-improvement is a gift given to men, not animals. From the philosopher's point of view, lonely men as well as savage ones tend to suffer from dementia. Rousseau asserted that people are good, contemporary civilization is evil, and primitivism is the best belief to find happiness. The thinker believed that experiences in the society made good individuals unhappy. According to Rolls (2013), Rousseau deemed society as corrupted and artificial and claimed that further improvement of society would lead to the continuing human misery. Individuals created a social environment for themselves, being subjected to slavery and dependency. The artificial environment is an environment of conflicts, rivalry, and inequality that produced insecurity, anxiety and conflicts since many individuals sought to get power, be wealthy and eventually placed themselves above other people. Rather than being satisfied with own needs, people seek wealth and superfluity for themselves. Individuals became possessed by the inclination to cause harm to each other.
Rousseau also emphasized the theme of concealment. People prefer to hide themselves behind the masks to satisfy hidden desires, reach own goals and get high profit at the expense of others. The society degenerated into a deplorable condition of mutual hostility. People became evil, ambitious, and greedy. The philosopher argued that the war of all against all attributed to the defects and negative aspects of the social state, not human beings. The early society was characterized by harmonious relationship, the labor division, private property, and the discovery of agriculture produced the horrible belligerent state. People had no choice, but to become egoistic and aggressive members of this society. Acquisitiveness and insatiable ambitions typify an individual's behavior.
Though Rousseau considered men in the state of nature as those who were prone to be imbecile, he thought that these animalistic men were still better in comparison with the civilized ones. The thinker provided many arguments to defend his claim. Modern men turn to be tyrants over the nature and themselves (Rousseau, Ritter, & Bondanella, 1988). Modern men make wars and commit crimes not only for their main needs, but also for pride and luxury. Therefore, Rousseau considered that the science and art were not beneficial needs of human beings, but rather some corrupted practices that a contemporary social man dealt with in order to satisfy needs for vanity and pride. Various concerns are caused for a man in the society. First of all, a person is concerned about ensuring his needs, then superfluity, luxury, and immense wealth, slaves, and subjects. He has no respite (Rousseau, Ritter, & Bondanella, 1988). Therefore, quarrels of social men usually end with murders and massacres, not just a victory of one person. After a man got luxury and pride, there goes commerce, mechanical and liberal arts that generate a significant inequality in any society (Rousseau, Ritter, & Bondanella, 1988). Consequently, according to Rousseau's vision, social men are warlike, and their degeneration and transformation from the original human beings to the modern man give quite a negative picture.
Rousseau determined that inequality remained the most serious problem of life of those days. In the modern world, insufficient and scarce resources force people to compete with each other. The result is a considerable inequality since victory always goes to the strong people, bringing weak humans to the condition of dependence. The physical inequality is associated with the harsh necessity and is exacerbated by conventional and artificial inequalities which issue from exploitative and antagonistic relationship in which individuals are entangled. Rousseau also criticizes technological advancements that ruin virtue (Harees, 2012). He aptly remarks that corn and iron first civilized humans, and then destroyed humanity. The philosopher lamented on the excessive idleness of some people, and the overwork of others, which the capitalist economy often relies on. The idleness corrupts morals, and Rousseau clearly points out that the dissolution of morals as the consequence of luxury causes the corruption of taste (Simpson, 2007).
We Offer
Original writing according to your instructions

Deadlines from 3 hours to 60 days

All disciplines covered

Confidentiality

24/7 Support
We Guarantee
Plagiarism-free papers

Timely delivery

Skilled writers with Master's/PhD degrees

Personal data security

Instant replies to all your questions
Having considered all these viewpoints, it will be wrong to claim that in philosopher's opinion, savage men are more peaceful and different in comparison with the modern men. Lonely savage people do not have compassion in the sense that contemporary individuals have or have not. Men live following the rules of nature trying to satisfy their main needs.
Savage humans trust each other more than today's men, but choose a different way to realize it. They live a flock life, not a social life. Therefore, a savage man acts with purely animal functions (Rousseau, Ritter, & Bondanella, 1988), thus, trying to satisfy unsophisticated passion and main necessities. However, modern men cannot trust each other because of suspicion, pride, and jealousy.
Rousseau was extremely pessimistic about the future and human transformation. He also romanticized and idealized savage men which were nearly animals for him. The philosopher complained about the complexity of contemporary life and negative characteristics of modern men. Rousseau could be right in claiming that denatured modern men (Orwin & Tarcov, 1997) made such cruelties as war, racial attitude, tortures, and imperialism. However, he seemed to have forgotten that human beings also produced technological machines that helped facilitate and improve the quality of life, made revolutions to protect the citizens' rights with no elements of aristocracy. Later, contemporary men abolished slavery and gave voting rights to poor individuals and women. Moreover, modern people invented democracy and collected millions of dollars for numerous aid campaigns. Since Rousseau looked only from one angle, his theory appeared to be quite dark.
Undoubtedly, material progress undermined the possibility of building sincere friendship among people, replacing it with suspicion and fear. In general, these aspects reflect Rousseau's own life. In my opinion, the foremost Genevan philosopher of the 18th century might have had some good points regarding modern people and modern life. However, his vision that modern men were corrupted by commerce, science, and deception seems implausible to me since social humans make good as well as bad things nowadays. Despite the fact that with modern technologies people can build bombs, it is important to remember that they can discover cures for serious diseases.