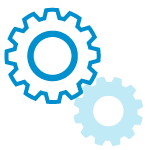 For business owners, cloud computing is an attractive option for storing and sharing data. Indeed, it makes it much easier for users to plan before doing something. Preparing and planning through cloud computing allows businesses to begin small and then gradually increase resources when there is a growth in demand for services. However, although cloud computing can offer great possibilities for the businesses and industries, cloud computing developments are currently in its infancy. As a result, many issues and questions still remain unaddressed. This article presents an overview of cloud computing, including architectural principles, a review of the key concepts as well as research challenges.
The main objective of this work is to provide a better understanding of the challenges of cloud computing and identify important research areas. It also includes:
How cloud computing can be posed as a means of advanced big data storage;
How can it take the lead in providing cloud-based big data storage;
The enterprise as a broker of cloud services;
Future steps in cloud-based big data storage initiatives.
This paper describes how big data technologies and clouds may offer a cost-effective delivery model for cloud-based big data storage. However, with the speed of technology development, and storage and processing of the Internet, all the computing possibilities and resources have additionally become more powerful, cheaper, and more available than ever before. The implementation of a new computing model called cloud computing is the result of these technological trends. In this case, resources (storage and CPU) are provided as a common tool that is available to customers online. Within the cloud environment, the provider service role can be divided into two parts: infrastructure providers that are able to control the cloud platforms and release resources. They should take into account the pricing model that is usage-based. The second group is service providers that are able to rent resources from the infrastructure providers and end-users. The technology of cloud computing has affected the modern world in a great way and has a huge impact on the information technology, especially over the last few years. This especially became true when such large companies such as Amazon, Google, and Microsoft were seeking to provide the most reliable, powerful, and cost-effective bases for cloud computing. Business enterprises were seeking to restructure their business models in order to benefit from the new paradigms.
These days, cloud computing can provide a wide variety of attractive features for business owners. Absence of initial investment:
Cloud computing uses pay-as-you-go pricing model. This means that the service provider has no need to reinvest in infrastructure in order to reap the benefits of cloud computing. Instead, the customer needs just to rent the resources from the cloud according to his or her own requirements and needs.
Reduced operating costs. Resources established in a cloud environment may be rapidly allocated and de-allocated by demand. Therefore, the service provider has no requirement to reserve capacity for peak load. This provides huge savings because resources can be freed in order to preserve their operating costs and the demand for them is low.
Scalable. Infrastructure providers obtain a large amount of resources in the data centers, which make them easily accessible. The service provider can easily widen his or her service in a larger scale in order to meet the rapid increase in demand for services. This is the so-called flash-crowd effect. This model is sometimes called a surge calculation (Agrawal, Das, & El Abbadi, 2011).
Big data analytics provides opportunities for reliable information and can create a competitive advantage, increase revenues, and spark new innovation. Additionally, this technology of cloud computing has the potential to increase business productivity and flexibility by improving efficiency and reducing costs.
Both of these technologies are continuing to evolve. Organizations and companies nowadays have gone beyond the issues of "what and how?" when storing big amounts of data. The problem of obtaining meaningful analytics currently meets real business needs. While cloud computing continues its evolution, the number of companies that are showing an interest in this technology is increasing, which could eventually lead to the building of an efficient cloud environment. The providers of cloud services still continue to expand the range of services. Nevertheless, most of the organizations are looking at cloud computing with the aim of structuring and supporting their big data storage projects. Big data requires server clusters that act as the support tools which handle, high speeds, large volumes, and various formats of data. Clouds are deployed on the pools of storage systems, servers, and network resources. They can be scaled down or up as needed. Cloud computing also can offer advanced analytics applications that may predefine business value.
Data has become more valuable. Currently, the question is moving from the "What data must we keep?" to "What can people do with the data?" Companies seek to unlock the data's hidden potential and opportunities for achieving great and competitive advantages. IT scientists predict that companies' data will grow by 800% between 2012 and 2015. Eighty percent of the big data will consist of unstructured information (such as documents, emails, images, video, and social media contents) and 20% will be comprised of structured information such as contact information and credit card transactions.
Thus, big data is considered to be a great data set that allows for a magnitude of volume. They are different and can include semistructured, structured, and unstructured data. The data arrives faster than the companies could even imagine before (Armbrust et al., 2009).
This stream of data is made by connected devices ranging from computers and smartphones, to sensors like camera movement and RFID readers. It is heterogeneous and can be posed in a variety of formats, including document, text, video, image, and much more.
The real importance of big data storage lies in the understanding of production. An analysis of big data storage has identified the decision-making indicators and the main patterns. Ultimately, it is possible to reaction to the business world's technological changes with faster speed and advanced intelligence. Big data analytics is an instrument that can help in this process. It may use complicated quantitative methods such as neural networks, robotics, machine learning, artificial intelligence, and computational mathematics. They can be used in order to discover patterns and relationships and expose the data.
We Offer
Original writing according to your instructions

Deadlines from 3 hours to 60 days

All disciplines covered

Confidentiality

24/7 Support
We Guarantee
Plagiarism-free papers

Timely delivery

Skilled writers with Master's/PhD degrees

Personal data security

Instant replies to all your questions
With so much potential data to identify ideas that can improve competitiveness, companies must find new approaches to data processing, data management and analysis, whether it's structured data, which are usually found in traditional relational database management systems (Rdbms), or more diverse, unstructured formats. Plus, combining different data sources and types has the potential to reveal some of the most interesting unexplored patterns and relationships (Manyika et al., 2011).
The data analysis indicates that there has been a move from batch to real-time. In 2012, a study of management of large enterprises such as Intel showed that, although the party against processing in real time is divided evenly today, there is a tendency to increase in real time, up to two thirds of total data management 2015.2 at the same time, technologies for processing in real-time or near real time, information is moving past the hype in the early stages of maturity (Hilbert, Lopez, 2011).
Support of predictive analytics in the real-time. Such analytics can enable organizations to move to a future-oriented idea that lies in understanding what is offered to organizations and some of the most outstanding opportunities for operating with large amounts of data.
Real-time data provides perspective for accurate, fast, and flexible predictive analytics. Its great importance lies due to the quick adaptation to the ever-changing business conditions. The faster customer will analyze his data with more timely results, the greater its predictive value will be (Ji et al., 2010).
Early interest for big data analytics focused on the social data sources business ones. This included emails, videos, Facebook posts, tweets, web behavior, and reviews. Today, interest in big data analytics is growing and includes data from varied intelligent systems like smart meters, automotive infotainment systems, and many other device sensors that are on the edge of the network -one of the fast streaming, largest-volume, and most complex big data.
Cloud computing has become a reality for a great amount of companies. Enterprises started by deploying a private cloud and they often take the leading position. Cloud technology is one that is reaching a stage of maturity. It is eliminating obstacles to the adoption of better security and data integration. Additionally, organizations are constantly evolving to support cloud services and as time has gone by more and more companies are becoming involved.
As a result, enterprises have been demonstrating a growing confidence in cloud-based delivery models. For example, in 2013 a review from Ubuntu showed that 55% of respondents believe that cloud technologies are ideal for handling mission-critical workloads (Krautheim, 2009).
Organizations' need to store more data in the cloud environments, which are considerably huge and valuable sources of information are growing every day. Plus, cloud technology can offer scalable resources on demand for business users. For example, combining the servers based on Intel® Xeon® Processor and the storage systems along Intel 10GbE network and Intel SSDS resources has led the use of the big data processing tools to creating such software as Apache Hadoop. It promotes a high processing power performance required for analyzing great amounts of data cost-effectively and efficiently. Running and operating Hadoop continues to evolve and mature with initiatives like the VMware open source project.
Organizations that use the above-mentioned cloud infrastructure may ensure that the AaaS tool have several options. Weighing factors such as cost, workload, security, and interoperability of data, companies may choose to use their private cloud in order to maintain control and reduce risks. Additionally, they can be used for public cloud infrastructure, analytical services, and platform. This can be made with the aim of implementing a hybrid model that combines public and private cloud services and resources and to further improve scalability.
An increasing number of the business users and companies have already consumed and are used to it as a service. It will continue to expand the role brokerage cloud-based services of big data analytics. The role of cloud services is to weigh the users needs in relation to the possible delivery options for the organization.
Thus, it means that the strategies result in development for private, public, and hybrid services. Additionally, it is posed as the negotiation and conclusion of contracts with possible providers of cloud service among other similar aims and promotional force in the cloud providers' selection. Organizationally, it can reduce the risks and make better use of existing investments in a private cloud. Individual users may benefit from the right decisions that may meet their requirements.
Using cloud-based big data analytics, the aim should be to find the right solution for the needs of users against a balanced policy of corporate governance, existing it resources, performance requirements and overall business goals.
In most departments today, providing the consultative approach to services will require management to reorganize, to remove silos, recruit and develop team members with new skills, and encourage active cooperation with business.
It is in an outstanding organizational position. Because of explosive growth of data and in spite of the new technologies and rapid changes, one can provide needed leadership in the company to analyze this big data.
Partnering with business owners can help in determining how big data storage can be used to address the organization's business challenges and align opportunities. As a full-fledged partner, the company management can help to assess and influence the choice of technologies and development best practices.
Explore technological options for cloud processing large amounts of data, including private, public and hybrid delivery models. To keep up with the trends, the manager must look at the market and understand the costs.
Create or update an existing big data strategy, which defines the process of bringing him to analyze big data projects. Strategy has to make it quick and easy for users to move forward, or business units will take matters into their own hands.
Consider how to organize it to better interact with business users to collaborate and consult on big data projects
Data rich, information poor. With the dissemination of information silos, there are problems associated with these arrays of many systems. In health care, clinical information systems are often fragmented and often do not interact with each other. In today's environment, there is the impression that hospitals are data rich but information poor. Clinicians often play the role of detective, making the transition from one clinical system to another,and merging the information together around their patients (Groenfeldt, 2012).
The healthcare industry has made serious steps with data interoperability, but problems remain. Whether in healthcare or in other industries, data can be categorized as structured data (e.g., laboratory data), unstructured data (e.g., patient discharge summary), data visualization (e.g., imaging with computed tomography studies and data transmission (for example, electroencephalography data). New technology has emerged that identifies indexes, search and goes to different data sources. There are a huge number of databases and data warehouses that feed the data warehouse. Add to this the huge amount of data generated from next generation genome sequencers and the sea of electronic devices and equipment, it is clear that the game "connect the dots" is becoming more complex.
01.
Select the type of assignment
02.
Provide explicit guidelines
03.
Enjoy your free time while our professionals work on your project
04.
Get an original work
Large data provided by cloud technologies can provide new insights clinically, operationally, and in science; even when focusing on the diagnosis through a complex chronic disease and looking at the patient population increasingly dynamic and cost-effective medical environment that is all about accountable care and value base of care. Clinicians and researchers dream of scenarios such as determining the structure of complex treatment and conceptualizing this specific clinical history of the patient and genomic and phenotypic data, and then circling, these indicators, such as hospital readmissions, costs, and customer satisfaction.
As healthcare providers expand their focus from sickness to health, the ability to adapt practical knowledge using the tools of big data analytics, platforms could shift the landscape of the cost of the accelerated cost braking. Consumer engagement can become much more meaningful with their deep analytical capabilities that can extract data from various data sources, including social networks, wearable devices, and search trends, and allow for non-standard ways to motivate healthy behavior and target high risk, high value segments of the population.
In the example with healthcare, McKinsey & Company generally predicts that if the healthcare providers in the USA use big data effectively and creatively, they could improve quality and efficiency. This way, the health sector would be able to save more than $300 billion in average every year. In the healthcare, cloud computing could help better handle the velocity, volume, and variety of data on health. Additionally, the information about what doctors can do when treating diseases and extracting greater value would be available. Managing, visualizing, analyzing, and extracting useful information becomes more complex, but still is possible with the help of IT-technologies.
Scalable database management systems (DBMS) is an integrated part of cloud computing. It investigated how to update intensive, applications, workloads, and decision support for descriptive and deep analytics. In the cloud infrastructure, it plays the important role of ensuring a smooth application transition from traditional corporate infrastructure to the next generation cloud infrastructures. Nevertheless, although the scalable data management has had prospects for more than three decades, many investigations were focused on managing the large quantity of data in the traditional corporate network. However, cloud computing brings its own set of newly emerged problems which require addressing and ensuring the powerful and successful cloud implementation of data management (Shrestha, 2013).
Data Security
Data security is another relevant research topic in the area of cloud computing. Because service providers generally do not have any ability to access the physical protection of data centers system, they must rely upon the infrastructure for the whole data security. Even dealing with the virtual private cloud, the service provider may specify the settings of security remotely, without necessarily knowing whether it can be implemented fully.
The infrastructure provider of cloud technology, in this sense, should achieve the next goals:
Confidentiality of the secure data transfer and access;
Possibility of certification and verification, whether the parameter of application security was changed or not.
As a rule, confidentiality in the technology of cloud computing is ensured when using the cryptographic protocols. The validation should be achieved with the help of remote attestation techniques. Remote attestation requires trusted platform module (TPM) in order to create non-forgeable summary of system (in other words, state of the system which is encrypted by the TPM private key).
However, the virtual environment like cloud and virtual machines may be physically moved from one place to another. Therefore, simply using remote attestation is not enough. In this case, it is necessary to develop and maintain the trust mechanisms in any of the cloud architectural layer for two main reasons. First, the hardware layer must be reliable while using TPM hardware. Secondly, the virtualization platform must be trusted when using the secure virtual machine monitors. Virtual machines migration should be allowed only when the source and destination servers are trusted. A lot of the recent works have focused on the task of effective protocol development for the creation and management of trusts.
Read more about Affiliate Program
In the modern world of IT investigations, cloud computing plays a relevant role. It is effective with a convincing managing paradigm of delivering services over the Internet. The growth of cloud computing has been fast within the information technology landscape. Transforming the utility computing long-standing promise into reality is possible in the organization for today. However, in spite of the relevant benefits of cloud computing, the current promotion of technology has not yet fully matured to the point where it is truly possible to understand the potential. Many of the key tasks in this area, including automatic resource allocation, power management, and security management, are only beginning to attract the attention of the scientific community. Therefore, we believe that there are still great opportunities for researchers to make an innovative contribution in this area, and bring a significant impact on their development in the industry. Thus, this work has investigated those main issues about cloud computing while taking into account the architectural design, key technologies, basic concepts, outstanding features, and research directions. Still, the development of cloud computing technology is at an early stage. Widening the way the further investigations and researches in this field can provide a better understanding of the key cloud computing challenges.