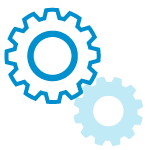 Today, the modern technology industry is experiencing dramatic changes. With the advent and proliferation of modern technology devices the continuous users are instantly adapt to technological change. For instance, the computer and the Internet are key technological inventions to extent that without them, the current technology and the things people like in it would not appear real, as they appear today (Greene, 2000). The technological devices have become an extended feature in an individual's lives. Modern technologies such as the Internet and its virtual worlds and communities make life easier in some ways; however, at the same time they negatively affect every new generation's development emotionally and physically. The researcher is interested in how the modern technologies influence an individual's lives.
Uses and Effects of Modern Technology Devices
According to Greene (2000), the technological devices have reached beyond the efficiency of individual's lives and have emerged as a major source of fun and entertainment. The use of information technology has made many people's lives easier and convenient. Traditionally, people had to look for vital information manually, but currently, with the advent of the computers, it is easy to gather data more easily. Technology devices used in different aspects of people's lives, and it is surprising how the technology advancements have altered the way people live. People encounter technology devices in different settings. Some of the technology devices assist in communication and purchase of products and services (Shotton, 1989).
Therefore, some individuals can see many positive impacts of modern technology devices on our daily lives. However, at the same time some of the technology devices have several drawbacks, for instance, computers. For instance, addiction and dependency to the technology devices have been studied for many years, and it appears that, there remains no single causal factor that enjoys a massive following (Milkman & Sunderwirth, 1987). Recent research indicates that academic performance of college students might be interrupted by the continuous use of the technology devices (Milkman & Sunderwirth, 1987). According to Young, a continuous use on the internet can result into detrimental academic and social consequences that are similar to the problems that have well been documented in other forms of addiction (Milkman & Sunderwirth, 1987). It is evident that internet addiction can be seen in various forms, such as communicating online has various limitations when compared to face-to-face communication. Both children and adults have become virtual addicts by using home computers as frequent means of communication. It is crucial to note that children are still experiencing a critical stage of social development. Thus, people wonder if modern technology devices have a detrimental impact on the virtual world addicts, of both children and adults (Rheingold, 1993).
According to Milkman & Sunderwirth (1987), increased contact with computers and other modern technology devices prolong the time of contact to the computer screen, resulting to decreased face-to-face communication. Furthermore, modern children, who are virtual world addicts, will spend more time in the chat rooms to satisfy their urge to interact with their peers through online conversations or play computer games. This robs them of time to go to the playground. This affects children's social life benefits such as learning how to cooperate with others. Other studies conducted on indoor activities have confirmed that time negatively impacts on the social life of virtual addicts through online conversation (Rheingold, 1993). Therefore, technological communication affects emotional and intimacy feedback of face-to-face communication. Besides, there are several negative impacts of computer addiction to individual's lives.
According to Shotton (1989), other effects of modern technology devices are social. For example, Internet addicts show the habit of withdrawal from the community by spending more and more time in the chat rooms. The withdrawal affects relations, which begin to fade as the virtual world addicts stop participating in community activities or social gatherings, have resulted into a tendency of isolation to spend more time in the Cyber space (Young, 1998). Additionally, individuals who are addicted to computers and other technology devices may encounter additional social problems even when they meet and interact with family members, not within their reach. Therefore, excessive use of such technology devices can cause serious emotional problems when addicts gradually adapt to the virtual digital world. Individuals, who have developed a friendship with online friends, may encounter serious problems with face-to-face communication, and this shows that technology devices can harm individuals' lives (Shotton, 1989).
We Offer
Original writing according to your instructions

Deadlines from 3 hours to 60 days

All disciplines covered

Confidentiality

24/7 Support
We Guarantee
Plagiarism-free papers

Timely delivery

Skilled writers with Master's/PhD degrees

Personal data security

Instant replies to all your questions
Some Internet addicts may use the chat rooms to do away with anxiety. However, spending too much time in the chat rooms can worsen the condition, further causing loneliness and isolation. It is necessary to understand that modern technology devices are the main causes of this trend in the society (Shotton, 1989). These include the programs that individuals can access through the computer, the psychological upbringing of children in the society, and the Internet. Some scholars argue that, addiction to the modern technology devices should be called pathological technology use, since the severity of the impacts is not enough to cause real sickness. This argument suggests that it is an individual's interaction with these technological devices that are the real problem. An important parameter of being addicted to a modern technology is when an individual is unable to fulfill other obligations, in the classroom, at home, or in the workplace (Young, 1998).
The Internet has received lots of heated debate because of the possibility of addiction to raise, so does negative consequences from their use. Particularly the time spent by individuals online can be significantly used in a more productive manner (Shotton, 1989). Modern technology devices can negatively influence people's lives, especially when addicts feel more comfortable with online friends than family members, or real friends. Because of this, it is necessary to study whether the modern technology devices makes individual's lives easier. The negative consequences of modern technology applications refute this statement, since some scholars argue that the virtual addicts can experience physical harm when they handle some of the modern technology devices, such as, a mouse or keyboard for a longer duration.
Some of the physical health implications include back pain, which are common among computer addicts who spend more time in the Cyber space. Moreover, sleep deprivation may lead to lack of concentration and drowsiness. Consequently, this may cause depression. When people spend more hours online, it is obvious that they lack meaningful time for body exercise (Young, 1998). Therefore, computer and Internet addicts can indirectly develop poor physical health condition. Other computer addicts may develop other addictions such as drugs and substance abuse, and cybersex. Job performance may also be affected among the late night-users of the technology devices. As a result, modern technology devices may contribute to anti- social behaviors by encouraging addicts to adapt informal behavior. This is detrimental to individual's lives, since it destroys social values such as politeness and honesty. However, it is evident that people behave differently in the virtual world and real world (Shotton, 1989).
How it Works
01.
Select the type of assignment
02.
Provide explicit guidelines
03.
Enjoy your free time while our professionals work on your project
04.
Get an original work
Every valuable thing has a negative consequence, but it should be noted that although there are critical, negative impacts exerted by modern technology devices, the positive effects on an individual's lives make lives easier. However, it is necessary to come up with a measure to mitigate the potential negative impacts, and at the same time, improve the beneficial impacts. It is evident that, in the 20th century alone, the average life span of man has increased dramatically due to the advent of modern technological devices in homes and other institutions. The advantages of modern technology devices outweigh the disadvantages; hence, they make life easier. However, more studies should be conducted on possible ways to mitigate the potential harmful impacts, such as, sleep disturbance, depression, and symptoms of isolation, which are associated with excessive time spent online. Some of the negative impacts of modern technology devices may cause difficulties in life, since our late treat of this tool; it may lead to serious health implications. Modern technologies such as the Internet and its virtual worlds and communities make life easier in some ways; however, at the same time they is negatively affect every new generation's development emotionally and physically.